This summer eye makeup is something worth while looking. While in Malaysia we don't get the four seasons, this eye makeup can simply be worn anytime for our tropical weather. I spotted these 10 different looks of color blocking, bright colors, soft and classic eye makeup simply to spice up your look.
Image Courtesy of Le21Eme
Color Blocking Lower Line
This was from Fendi Spring Summer 2013, is something you don't wear daily but I find it interesting. Instead of makeup, they used thin fabric material and stuck it on the lower lash line which gives quite a strong statement.
Image Courtesy of FabFashionFix
Aquatic Blue
Lancome Aquatic Summer 2013 shares a deeper blue with gold eye shadow at the inner corners creating a sophiscated look. For the brows are on the brown hues to soften the eye makeup.
Image Courtesy of Broke Snob
Soft and Wispy
The combination of a few soft eye shadows shades makes the look colorful and the wispy lashes makes it look softer and romantic. This is from Shu Uemura Spring Summer 2013 and the colorful shadows goes along the lower lash line to and it doesn't have to be symmetrical on both eyes.
Image Courtesy of Beautiful With Brains
Multi Cool Liners
Makeup Forever Aqua Summer 2013 introduces to us  the multi cool colors as liners. We usually get to see eye liner styles like this on neutral makeup but this they have combined softer cool shades of white, purple and green.
Image Courtesy of LOULOU
Canary Shadow
Summer is also about all the bright colors and this time Kenzo Spring Summer 2013 chose canary shade which bring the utmost of the look suitable for all skin tones.
Image Courtesy of Fashionium
Warm Colors
Mac Makeup Spring Summer 2013 brings the warmer shades and who says its only meant for fall season?  Combining bright orange and soften it at the crease then dust the middle above the crease with soft red eye shadow. No heavy eye liners and neutral lashes.
Image Courtesy of Style Juno Fashion
Mutual Color With Mascara
Just as I mentioned bright colors, in Donna Karen Spring Summer 2013, they are pairing bright eye shadows that goes all the way to the mascara. Yes, instead of the classic brown or black mascara, they use colored mascara to bring more colors to the eyes.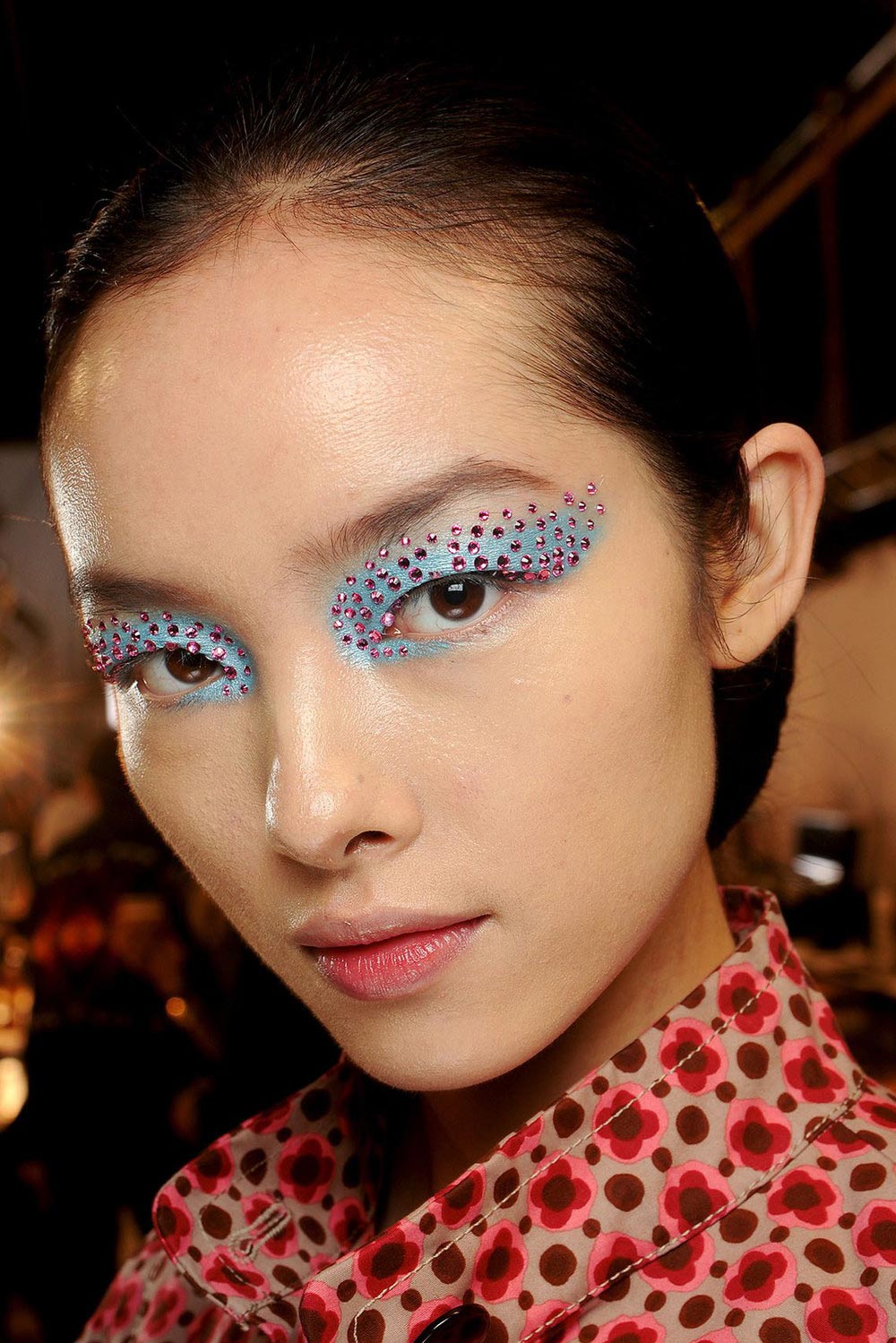 Image Courtesy of Makeup For Life
Mermaid Inspired
This is something outstanding and not something that we can wear daily but in Christian Dior Spring Summer 2013 is worth looking at. Its similar to mermaid and the rhinestones glams up the look, making it much more different from the others.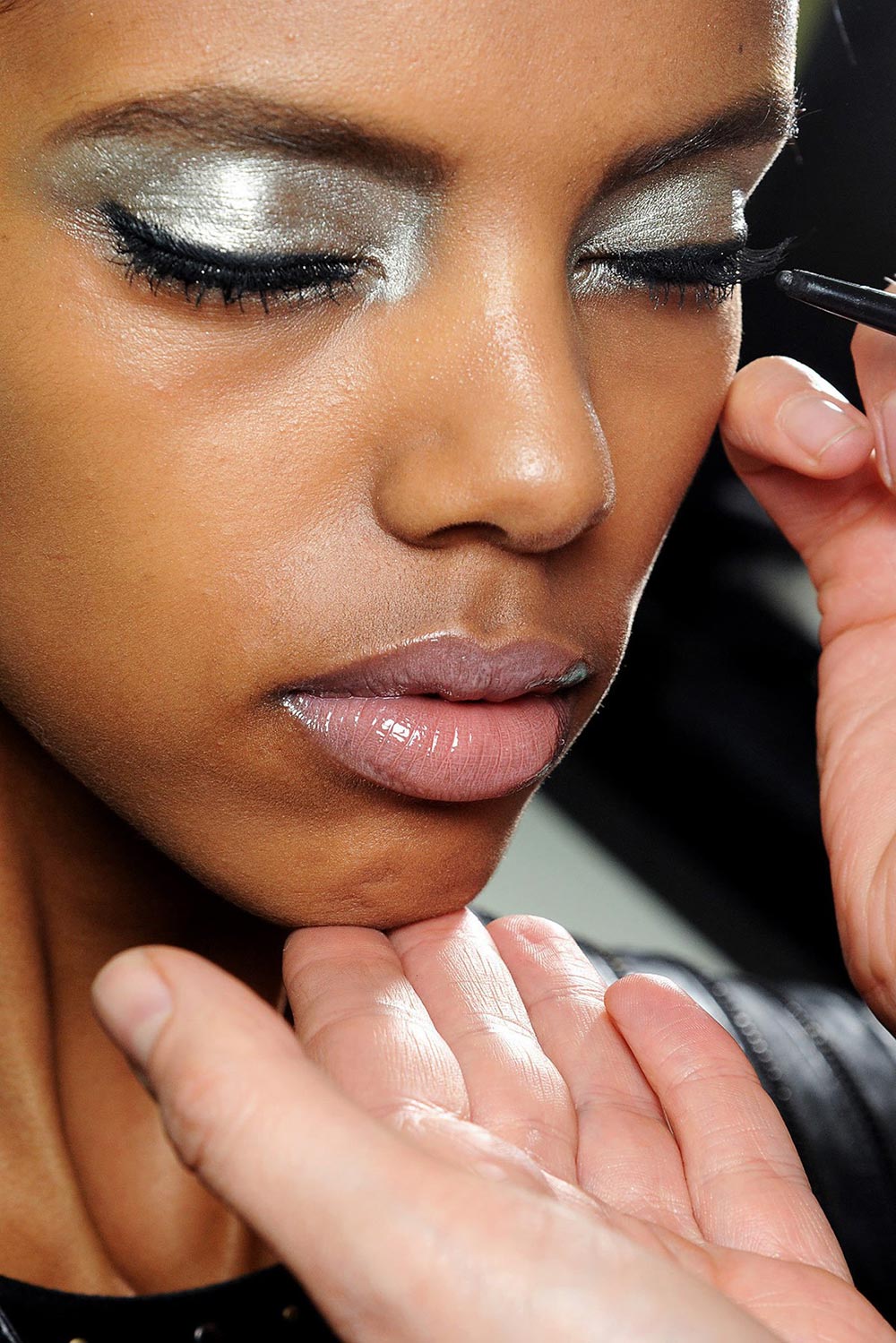 Image Courtesy of Makeup For Life
Platinum Eyes
On the other side, Chanel Spring Summer 2013 brings us the futuristic look by using only metallic silver eye shadow, black eye liner to define eyes and voluminous lashes. Silver eye shadow can be as versatile as neutral tones depending on how you want to wear it.
Image Courtesy of Soul Lovely Fashion
Soft Twiggy
Flash back to the 1960s, Marc Jacob Spring Summer 2013 brings us the Twiggy inspired look. Instead of having the outstanding lashes from the original, they only use black eye shadows to go on the crease line and to define eyes but with softer blend.
What's your pick for this summer eye makeup? Share with me in the comment box below!