Earlier I mentioned about how tie dye nails would be the hot nails for this summer 2013. Remember to check those nails out because it was so easy to achieve, you just need the patience to wait for it to dry. This time we are looking on those hot lips to rock on this season and the colour can be huge throughout the year. Spotted a few stunning lip colors from numerous runway.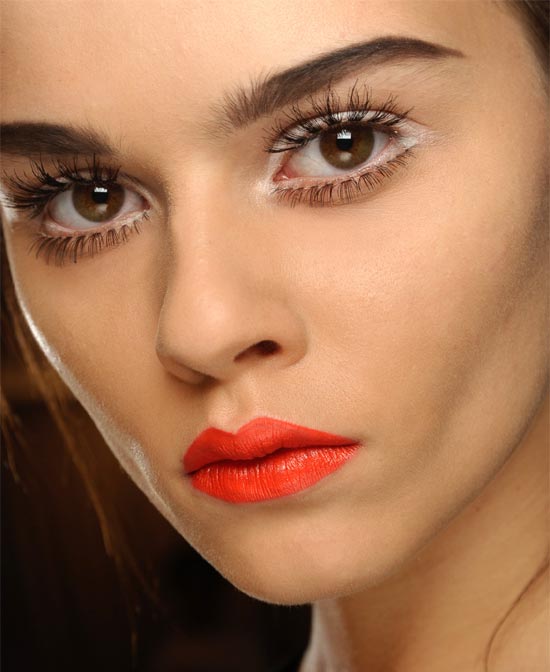 Image Courtesy of Makeup For Life
Orange Lips
Orange shade lip color is no strange color since early this year and this is the shade that is being pretty huge of the year. This was during Moschino Spring Summer 2013 and it gives a beautiful pop of color to the entire look.
Image Courtesy of  Fashion Seekers
Nude Pink Lips
Don't worry if you cannot put yourself to those bright lips, nude pink lips simply gives you that innocent and healthy lips. Remember its nude pink, not nude. The difference is that nude pink has that pink finish whilst nude is just a shade that is very close to your skin color.
Image Courtesy of Vogue Beauty
Dual Tone Lips
If you dare to be different, dual tone lips is another hot lips trend for this summer. This was spotted in Holly Fulton Spring Summer 2013 combining totally two playful colors for the lips. It stands out so much  even if you have neutral makeup.
Image Courtesy of Daniel Sandler
Matte Lips
Matte finish lips has gotten in trend since a year or two in Malaysia and this goes great especially if you have naturally thick lips. Even if you don't have thick lips, just lip liner, highlight and contouring will help to get that pucker lips. Just remember that matte formulas can be drying if you have dry lips.
Which would be your summer lips pick?